View online

Advertise

Unsubscribe

from TradeBriefs Daily
---
Blog

Sree Vijaykumar
From the Editor's Desk
For all those wondering what all this blabbering about machines taking over humans is about, here's a rather long, but valuable primer on why Artificial Intelligence is something that deserves more of our attention. 3 fundamental points: Human progress has been exponential (think of the time durations between stone age to industrialization to the internet). It's about to get crazy exponential as we get closer to mimicking the human brain (some estimates say by 2030). With hardware (the limitation when it comes to the human brain) becoming cheaper faster and faster, along with self-learning software that becomes

exponentially

smarter, we are moving from ANI (Artificial Narrow Intelligence, eg: Siri, Google Search, the landing system on your flight) to AGI (Artificial General Intelligence - when computers have all-round intelligence like humans). This jump from ANI to AGI is tricky, and requires a significant increase in computational power. But again, exponential growth means AGI could creep in on us sooner than we think - Comment
Digital
Advt:The Rise of Multi-Talented Freelancers
A freelancer in 2016 must wear many hats. A freelance marketer for example, should have impeccable writing, PR experience, social media proficiency, and preferably some SEO skills
HR
Talent acquisition to be top challenge in 2016
Attracting the best talent with critical skills, retaining them and enhancing workforce productivity have emerged as the top three human resource challenges that organizations will have to face in 2016 , reveals a survey conducted by Randstad, a leading HR service provider.
HR
HR
HR
HP to cut 3000 jobs in 2016
HP Inc said it was accelerating its restructuring programme and now expects about 3,000 people will exit by the end of fiscal 2016 instead of over three years as it announced in September.
Politics
Politics
Where's The Dialogue On JNU? This Lazy Mud-Slinging Doesn't Count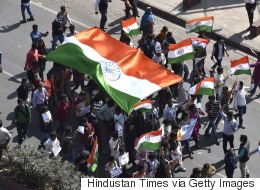 How does anyone justify support for those who want the destruction of this country? Why did this slogan and its implications deteriorate into a shouting match between those who consider themselves patriotic and the self-appointed saviours of the values of liberalism? When did it become "nationalistic" to question the student protesters wanting the destruction of the very same state that funds the bulk of their education? The government and its spokespersons have gone overboard but the critics haven't done a great job either.
Politics
Politics
TradeBriefs Publications are read by over 10,00,000 Industry Executives