View online

Advertise


Unsubscribe

from TradeBriefs Daily
---
Blog

Sree Vijaykumar
From the Editor's Desk
Helicopter money is a reference to an idea made popular by the American economist Milton Friedman in 1969. The basic principle is that if a central bank wants to raise inflation and output in an economy that is running substantially below potential, one of the most effective tools would be simply to give everyone direct money transfers. In other words, print more money and give it to the people. In theory, people would see this as a permanent one-off expansion of the amount of money in circulation and would then start to spend more freely, increasing broader economic activity and pushing inflation back up to the central bank's target. Direct transmission could be more effective than QE, which relies on trickle-down effects from financial markets and doesn't expand the overall money supply. Prolonged QE has probably set the foundation for the next asset bubble already. The challenge is that if helicopter money works, governments will be tempted to use this even in good times, leading to chances of hyperinflation - Comment
Digital
Uber vs. Uber's clones: Infographic
These days, watching Uber's quest for global expansion and competitors' attempts at one-upping the American company is a bit of a reality show itself. Uber has many rivals – Tracxn has to slip in a disclaimer that it only included three clones per geography – but there's still plenty of money to be made in the business.
Retail
Ecommerce in India; Flipkart loss Rs 2000 cr, Amazon India loss Rs 1723.6 cr, Snapdeal loss Rs 1328.01 cr; discounts fall
Ecommerce in India: Top cos awash in losses; Flipkart loss Rs 2,000 cr, Amazon India loss Rs 1,723.6 cr, Snapdeal loss Rs 1,328.01 cr; big online retailers like Flipkart, Amazon India, Snapdeal, Myntra, Jabong and Shopclues, among others, are waking up to the harsh realities of business. Offering discounts for the past few years might have got them loyal customers, but the mounting losses are now too big to ignore, not to mention the heat from investors breathing down their necks. That means there is more bad news for the consumers, as discounts are expected to show a fall across the board.
Retail
Retail
Retail
Politics
Politics
Politics
Politics
To The Lahore Victims: Grief And Prayers Are All I Have, Forgive Me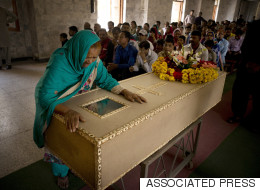 The posters we share, the solidarity profile pictures, or the quotes we retweet--do they give recourse or relief to the children brutally awakened from the innocent bliss of childhood to face the grim reality of the world we live in; to the mother who lost her toddler son; to the man who lost his companion of decades; to the families whose celebration turned into loss because one man decided blowing up a park is what God wants.
TradeBriefs Publications are read by over 10,00,000 Industry Executives