View online

Advertise

Unsubscribe

from TradeBriefs Daily
---
Sports
Premier Futsal kicks off on July 16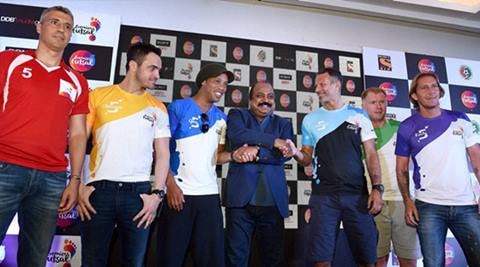 Opening ceremony will see a live performance from A R Rahman and Sean Garnier and give the audience a glimpse of what to expect from Premier Futsal.
Marketing
Pokémon Go is The next big marketing tool for brand retailers : Report
Pokémon Go, a mobile game that has rocketed to the top of Apple and Android app stores in record time, looks set to challenge young internet companies which specialise in increasing foot traffic for small businesses and may end up playing a role in major brands' marketing, according to industry experts.
Marketing
Believers, not skeptics, build businesses : Rohit Bansal, Snapdeal
by Rohit Bansal, co-founder of Snapdeal Believers, not skeptics, build businesses. I am yet to meet a successful company or entrepreneur in the world, that has never been written off by some skeptic. Besides all the love from millions of customers and hundreds of thousands of sellers, we hav
Marketing
Marketing
Franchise
Attributes franchisors look out for in franchise candidates in the services sector
When you first consider franchising as a business model, one of the choices that arises is which type of business, in which sector, suits you best. One basic choice is to make is goods or service; another is retail or home-based. In previous months, we've explored ways to find the sector, and the franchisor, most likely to give you the best chance of success. More recently, in the previous four weeks, we've discussed the attributes franchisors look for in franchise candidates in the retail sector and in the home-based sector. Here we apply the same lens to the services sector. Let's begin with the similarities. All franchisors want candidates who follow the system, pay royalties on time, possess marketing skills and savvy, know how to run a business, show leadership and growth potential, are good communicators, and are expansion-minded, community-oriented, and willing to give back to the system. Franchisors look for these skills whether you choose a service, retail, B2B, or other concept.
Franchise
Franchise
Franchise
/Archives
Logistics
/Franchise
Archives
/Software
Archives
/Sports
Archives
/Sports
Archives
/Sports
Archives
/Entertainment
Archives
/Sports
Archives
/Sports
Archives
/Sports
Archives
/Sports
Archives
/Sports
Archives
/Software
Archives
/Sports
Archives
/Entertainment
Archives
/Politics
Archives
/Sports
Archives
/Logistics
Archives
GST may see another roadblock over SC verdict on Arunachal Pradesh
The Narendra Modi government's push for the Goods and Services Tax (GST) bill could see another roadblock in the upcoming monsoon session of Parliament with the Congress getting set to attack the Centre on the Supreme Court verdict to restore the ousted Congress government in Arunachal Pradesh.
/HR
Archives
It is raining jobs at Rajasthan University
Rajasthan University's placement cell in association with state government for the first time organized a day-long job fair for all its students at the Convocation Hall on Saturday. By evening, 573 students were issued joining letters while 500 were declared qualified for the second round of interviews and training.
/Telecom
Archives
Reliance Jio's entry to trigger mobile data boom: HSBC
At 18 GB per month, the data consumption per month among the customers of new entrants in the 4G telecom space is 20 times what some existing players have been able to draw, and suggests a boom ahead in the coming months, the latest HSBC research report says.
/HR
/Construction
Archives
/HR
Archives
It's raining jobs for AAU's agribusiness managers
Vadodara/ Budding agribusiness managers have once again shined at Anand Agricultural University (AAU).AAU's International Agribusiness Management Institute (IABMI) has registered 100% placement like previous year.
/Software
/Sports
Archives
/Politics
Archives
/Politics
Archives
/Sports
Archives
/Sports
Archives
/Sports
Archives
/HR
Archives
/Logistics
Archives
/Logistics
Archives
/Telecom
Archives
/Franchise
TradeBriefs Publications are read by over 10,00,000 Industry Executives